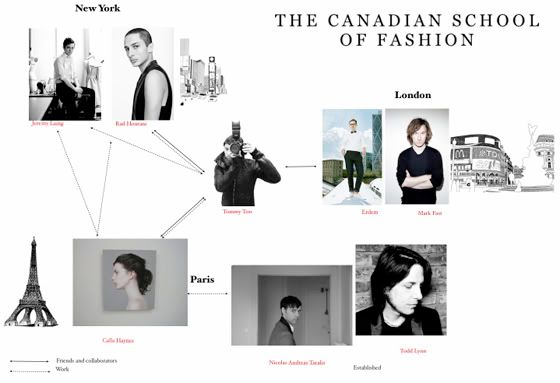 Since Mary and I started this blog a few months ago I've wanted to do a series of posts on a subject of great interest to me, sparked in part by
this article
, that is, the ascending stars of contemporary Canadian fashion. I've felt for awhile that there is something quite special happening amongst a set of designers who, in one way or another, have ties to this country. Not that a talented Canadian is unique, certainly, but a whole whack of them taking the fashion world by storm is, in my opinion, special. What particularly excites me about these designers is that they are making garments appealing to a truly progressive fashion client and seem to be doing so with great subtlety and ease.
That they are primarily expats working abroad says something about the possibility of success or fame for those who remain in the country - not especially encouraging for someone like myself just starting on a new line. Still, inspiring, cause for pride and certainly worthy of highlighting.
Before I ever began on my own series of posts about these designers, however, I found Laura Minquini's amazing blog,
The Canadian School
(from which the above chart is taken), which focuses on select rising Canadian talents including most of the big guns, Rad Hourani, Calla Haynes, Mark Fast, etc. To her list I'd love to add some who I consider up-and-comers,
Clayton Evans
,
Jennifer Ann Gilpen
,
Heather Martin
,
Travis Taddeo
,
Audrey Cantwell
,
Maryanne Mathias
.... I could go on.
Anyway, a deserving subject, and a great new blog to add to my favorites.