Okay so I guess it's time to do some real shopping. As usual Christmas has managed to sneak up on me and is now less than one month away. There's still plenty of time to find gifts for all my loved ones, write and send out Christmas cards, mail presents, bake cookies, decorate a house, plan festive meals, including an enormous Christmas morning brunch, and find quality time, right? Well sort of, except for the fact that as of now (or rather two days ago) I have a total of two (TWO) days off before the 25th.

Luckily there is no need to panic as Persuasion has been scouting out the best gifts to give to everyone on my (and hopefully your) lists.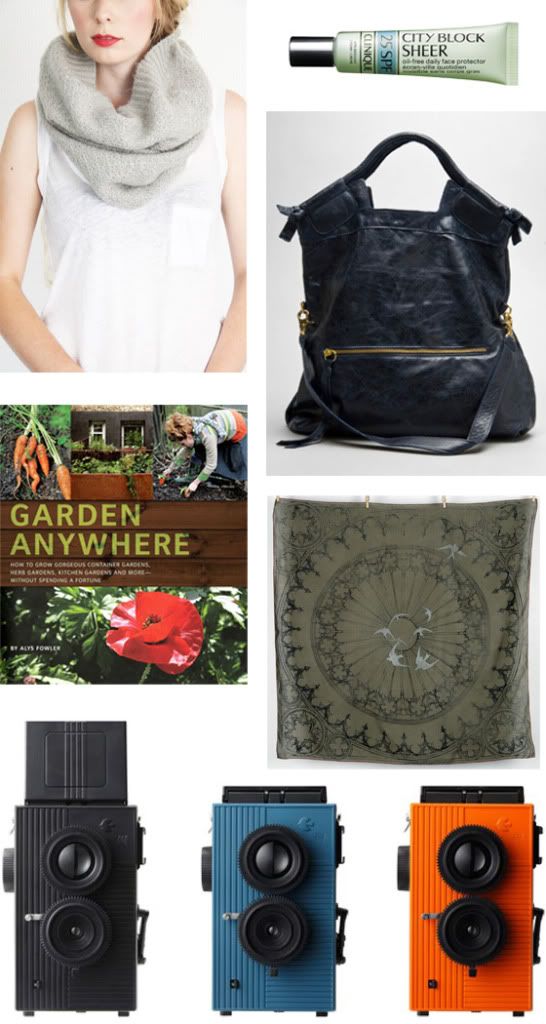 Round One: some great ideas for the
romantic city woman
in your life.
{Clockwise from top left:
Cheap Monday scarf
via
Vincent Park
;
Clinique City Block Sheer
with SPF 25;
Foley & Corinna bag
via
Vincent Park
;
Strasbourg Birds scarf
, by Paupervoile on Etsy;
Black Bird Fly
Twin Reflex Camera (I am obsessed with this camera - it shoots in 35mm!) via
All the Mountains
; and
Garden Anywhere
, by Alys Fowler}