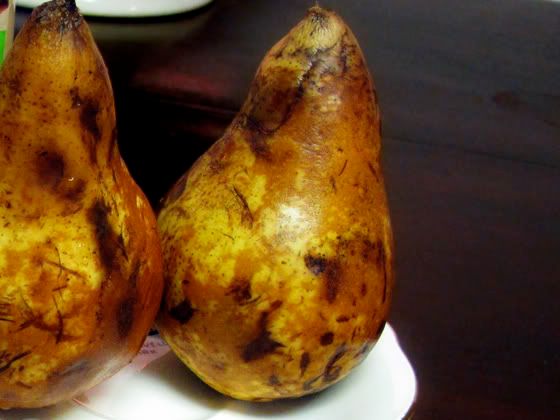 I've never cared much for fruit. Oranges always seemed like work, bananas were mush dressed up in pretty packages. Berries were a tart and unwanted distraction from what I considered the 'main event': ice cream, shortcake and the like. Plums, peaches and nectarines weren't even on my radar. Of the few fruits I did like, apples, grapes, watermelon etc., my favorite was always the moist & messily delicious pear.
I like pears, I can relate to them. I feel they're the underdog of fruit, at their best when they look their worst, and that's something I can get behind.
Last night I was craving all things naughty and good and so made a pear & brown butter cake. I even added some of the dark chocolate-colored butter solids to the batter for a little added sin. That's just how I roll. It was simple and delicious.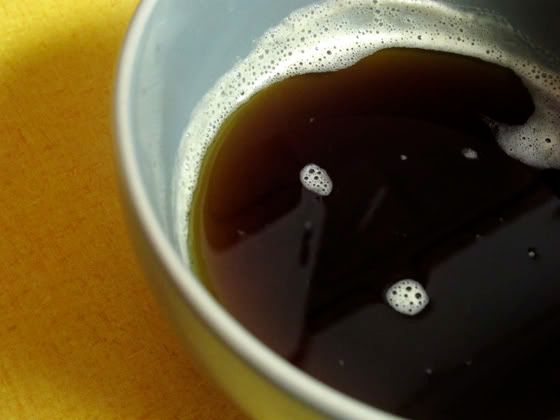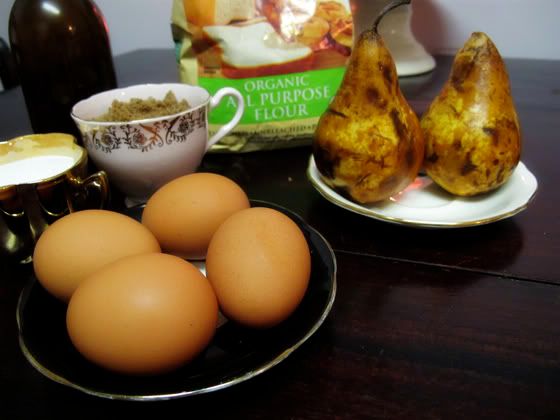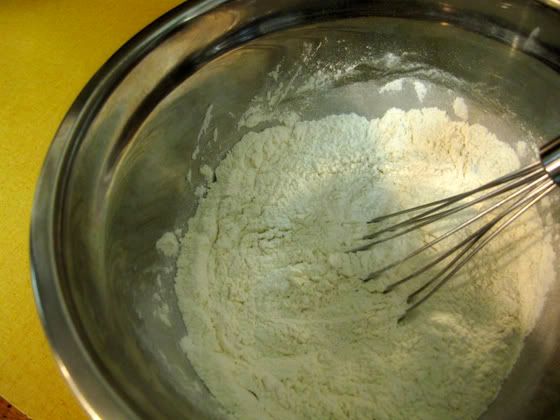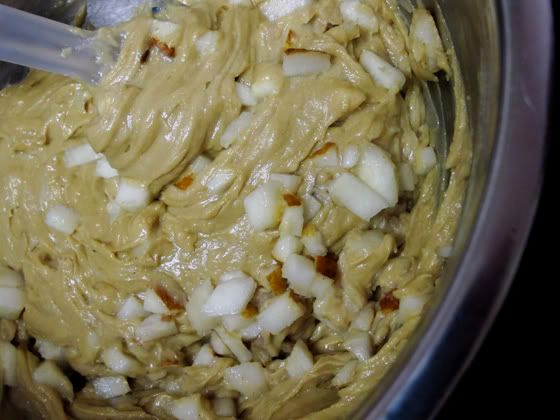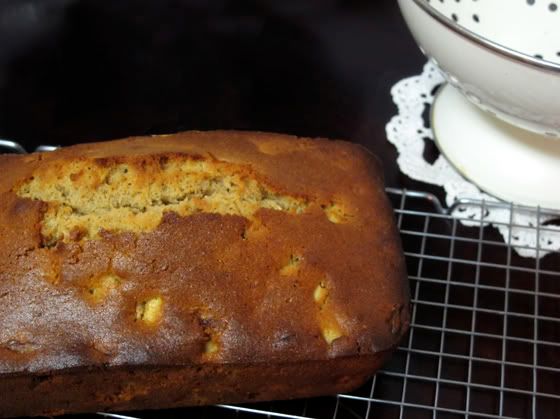 Pear Brown Butter Cake, makes one 9 x 5 inch loaf

1 1/4 cups butter
2 cups flour
1 tsp baking powder
1/2 tsp salt
1/2 cup brown sugar
1/2 cup granulated sugar
4 eggs
1/4 tsp vanilla
1/4 tsp almond flavoring
2 ripe pears, cut up as large or small as you please (mine were about 1/2 - 1 cm dice)

Preheat oven to 325ºF and butter a 9 x 5" loaf pan.
Heat butter in a saucepan over low/medium heat until it has a nutty aroma and turns amber brown & the butter solids at the bottom of the pot are a deep chocolate colour. Pour off liquid (leaving solids in the bottom of the pot) and chill brown butter liquid in the freezer till it firms up, about 20 minutes. Meanwhile, whisk together the flour, baking powder and salt and set aside. When the butter is solid, beat it together with the two sugars until light and fluffy, about 2 minutes. Add the eggs, mixing after each, then the vanilla and almond flavoring. Add the flour mixture to the butter/sugar/eggs and lightly combine. Now, if you're me, you'll add a spoonful of dark butter solids, but you probably shouldn't, ok? Finally, fold in the chopped pear and pour batter into your prepared pan. Smooth the top and bake for 1 - 1 1/4 hours until cake is set and an inserted toothpick comes out clean (I probably baked mine for more like an hour and 20 minutes). Cool for 30 minutes, turn out onto rack and let cool fully.

Eat. And if you want to be extra bad (which I usually do) sprinkle some Riox Chocolade Hagel Puur on a slice.